Man seriously hurt in wreck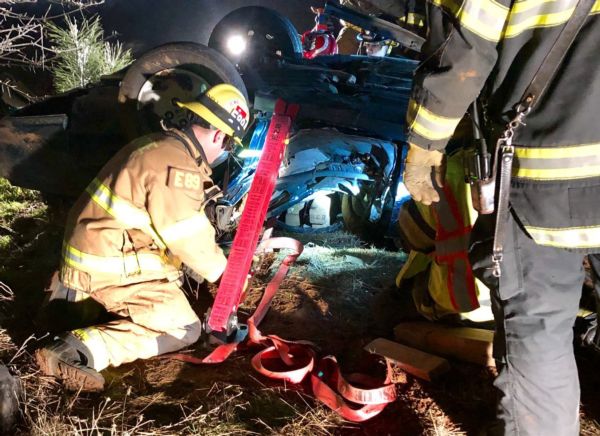 Emergency responders extricate a Placerville man after his vehicle rolled over on Highway 50 Sunday. Photo courtesy of El Dorado County Fire Protection District
<![if !vml]>
<![endif]>
Emergency responders extricate a Placerville man after his vehicle rolled over on Highway 50 Sunday. Photo courtesy of El Dorado County Fire Protection District
Man seriously hurt in wreck
By Pat Lakey
A 25-year-0ld Placerville man suffered major injuries and required extrication after the vehicle he was driving crashed off Highway 50 just after midnight Sunday, according to the California Highway Patrol.
Jesse Orr was taken by helicopter to Sutter-Roseville following the incident, which occurred just east of South Shingle Road. Crews with El Dorado County Fire, which had recently trained in vehicle extrication exercises, were able to free up the victim in order for transport to the hospital.
Orr reportedly was westbound when his vehicle left the roadway, for reasons still under investigation, traveled onto the north shoulder of Highway 50 and overturned.
It required using technology to pinpoint a "reverse ping" in order to locate the wreckage, after a 911 dispatch resulted in "difficulty" sending emergency crews to the location, according to an officer with the CHP's Placerville office.
Orr was the only occupant of the vehicle, the CHP reported. Alcohol being a factor in the crash "was ruled out at the scene," according to the CHP.
The 25-year-old was listed in "fair" condition Tuesday at Sutter-Roseville.
Printed in the January 15, 2019 edition of the Mountain Democrat on page A1 | Published on January 15, 2019 | Last Modified on January 15, 2019 at 2:59 pm