Red Hawk hosting 9/11 memorial climb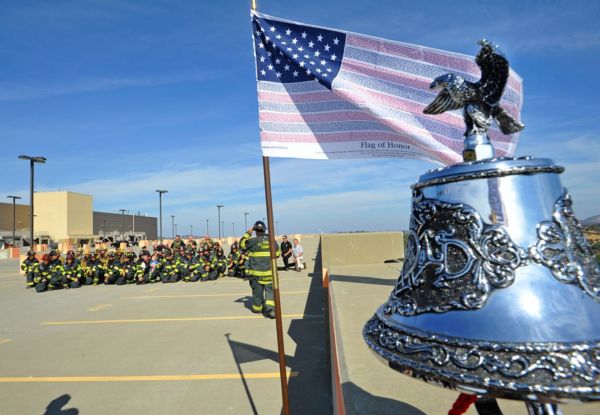 Firefighters, law enforcement officers and other emergency service personnel take a knee after ringing the bell for victims of the Sept. 11, 2001 attacks during last year's 9/11 Memorial Stair Climb at Red Hawk Casino. Democrat photo by Shelly Thorene
Red Hawk hosting 9/11 memorial climb
In remembrance of lives lost almost two decades ago on Sept. 11, 2001, local first responders will don their gear and climb over 100 stories for the second year in a row.
The 9/11 Memorial Stair Climb will take place outside the Red Hawk Casino level 1 parking structure at 8 a.m. Tuesday, Sept. 11. Sworn emergency personnel such as firefighters, law enforcement officers and other first responders will climb 110 stories all while wearing their full duty uniforms — vests, belts, helmets, turnouts and all.
Spectators are welcome to attend. Kyle Nielsen, a firefighter with Station 28 in Shingle Springs coordinating the event, has encouraged local fire agencies to bring out their vehicles so the public can learn more about firefighting and emergency response during the event.
Participants should arrive an hour early for registration at 7 a.m. Registration fees of $25 a person will be donated to Tuesday's Children, a nonprofit helping those affected by terrorism, including more than 15,000 individuals directly impacted by the Sept. 11 attacks on the World Trade Center, according to the organization's website.
Those interested in registering can contact Nielsen at nielsenk@eldofire.com. As of Thursday evening, Nielsen said about 20 people had signed up to participate. Last year, there were between 60 and 70 climbers but Nielsen acknowledged it's been a busy fire season for many potential participants. Still, he's hopeful the roster will grow by Tuesday.
Casino spokeswoman Emily Cady said the 110 stories climbed represents the floors of the original World Trade Center. Last year, the climb took just over two hours for everyone to complete, according to Nielsen. The climbers ascended to the top of the parking garage 15 times, each collecting an entire suit of old casino cards one by one as a way to keep track of progress. After the 15th lap, all participants gathered at the bottom of the parking garage and climbed to the top a 16th time together, rounding out the 110 floors.
At the top, Nielsen said, the climbers gather in a moment of silence, ring a bell then take a breather.
There are stair climbs across the country on 9/11 but Nielsen, along with the rest of the crew at Station 28, came up with the local event last year. After realizing they all had to work on Sept. 11 but still wanted to do something to memorialize the tragedy, Nielsen said this was a way to incorporate their daily physical training in a way that remembers the lives lost.
According to the casino's website, 11 local agencies are involved, including El Dorado County Fire and fire departments in Diamond Springs, Garden Valley, Georgetown, El Dorado Hills, Mosquito and Lake Tahoe, as well as four law enforcement agencies: the Shingle Springs Band of Miwok Indians Tribal Police, El Dorado County Sheriff, South Lake Tahoe Police and Placerville Police.
Nielsen said at this point the event is open to first responders or military members, either active or retired. Though members of the public have expressed interest in running the stairs, Nielsen has had to "tactfully explain" the incident-responder angle of the event and stressed that it's not meant to be exclusionary.
"It's a very solemn opportunity for us to put ourselves in their shoes and put [ourselves] through the physically demanding task that was asked of those individuals who responded to the attacks on the twin towers," Nielsen said. "We're honoring the choice they made: following through on the oath they took as first responders."
Red Hawk's event posting included statistics of emergency personnel lost in the 9/11 attacks: 343 firefighters and paramedics, 55 military personnel, 37 Port Authority officers, 23 New York Police Department officers, 11 officers who died due to illness after the attacks and one police officer on board United Flight 93.
Printed in the September 10, 2018 edition on page A1 | Published on September 10, 2018 | Last Modified on September 7, 2018 at 10:56 am