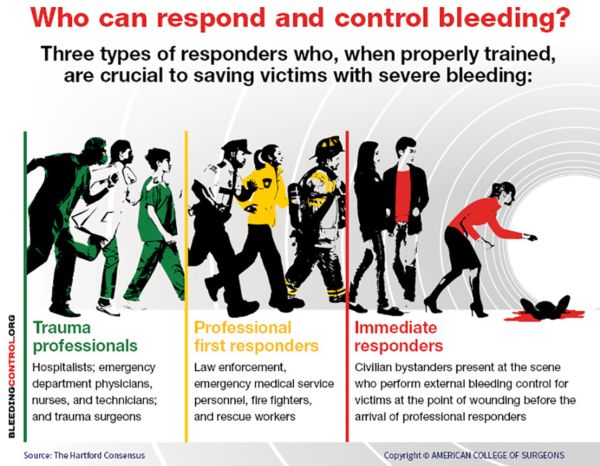 Firefighters know how to Stop the Bleed, do you?
Fire district hosting life-saving course
Public invited to partake in 'Stop the Bleed' class Wednesday
Bleeding accounts for a significant percent of all trauma-related deaths, according to El Dorado County Fire Protection District Capt. Jacob Poganski.
Although emergency medical services are available in the community and often respond quickly, bystanders have the opportunity to make a difference especially when it comes to bleeding. "The top cause of preventable death in trauma is bleeding. About 20 percent of the people who have died from traumatic injuries could have survived with the quick administration of bleeding control," the fire captain said.
The upcoming course will offer participants the opportunity to learn how to intervene, if they encounter someone with severe bleeding, before professional help arrives.
"It's important because someone who witnesses a traumatic incident — whether it's a vehicle accident or act of violence such as a shooting or stabbing — can play a critical role in helping someone who has a bleeding emergency. Just by intervening as soon as the problem is identified, the bystander essentially buys the victim time until EMS can arrive and provide the patient care and transport to a hospital," Poganski said, adding, "So the bystander can be a critical link in the patient's survival."
Stop the Bleed — launched in 2015 by the White House — is a national awareness campaign "intended to cultivate grassroots efforts that encourage bystanders to become trained, equipped, and empowered to help in a bleeding emergency before professional help arrives," states information from the U.S. Department of Homeland Security.
"No matter how rapid the arrival of professional emergency responders, bystanders will always be first on the scene. A person who is bleeding can die from blood loss within five minutes, therefore it is important to quickly stop the blood loss," Homeland Security states.
The American College of Surgeons offers the following tips when a bleeding emergency is identified: Call 911, ensure your safety and the victim's safety if possible and look for life-threatening bleeding. If uncontrolled bleeding is found, compress and control bleeding by pushing down hard on the wound with medical gauze or other materials at hand such as a tee-shirt. Apply a tourniquet 2-3 inches above the injury if bleeding does not stop with direct pressure. For more information on how you can "Stop the Bleed" visit bleedingcontrol.org.
The local Stop the Bleed class will be held from 6:30 to 8:30 p.m., March 21, at Fire Station 28, 3860 Ponderosa Road, Shingle Springs. Class space is limited. Those wishing to attend should RSVP to duncand@eldofire.com.